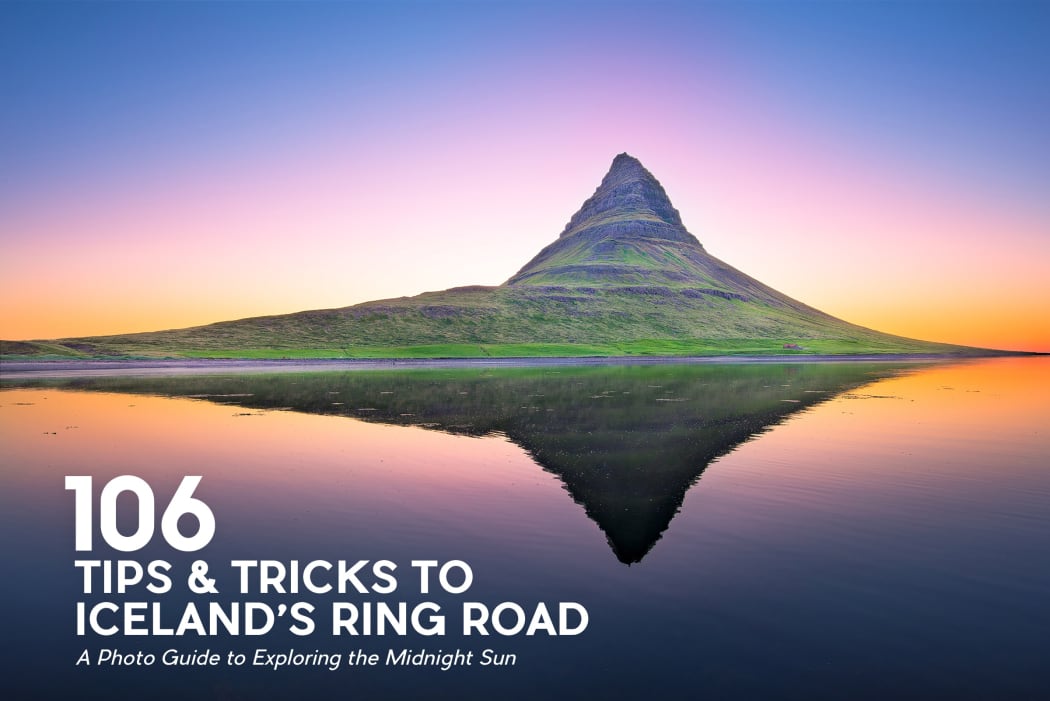 Iceland is one of my favorite destinations in the world. Chock-full of unique landscapes, raw beauty, delicious food, and great people – what more could you ask for? Last summer, my now fiancée and I set out on a 15-day adventure to drive Iceland's famed Ring Road that wraps around the entire island. In this eight-part guide, we will detail what we saw, what we loved, what was overrated (and worth skipping on a tight timeline), and what we missed out on and are sure to hit next time (so you don't). Outlined below, each article details a particular geographical region, navigating the country counterclockwise, so you can get the most out of your adventure no matter how many days you plan on staying. Let's get started.

PART I: ARRIVING IN REYKJAVÍK
Whether you've snagged a cheap flight from the states or mainland Europe, chances are you will be landing in Iceland's capital hub of Reykjavík (Airport Code: KEF/BIKF). With a population of around 125,000 people, Reykjavík is Iceland's largest city and a great place to get settled, prepare for your road trip, and enjoy a little wandering. In this section, we will outline the "Day 1" essentials of renting a car, prepping your supplies and exploring the must-see attractions of the area including the Blue Lagoon, Hallgrímskirkja, and the renowned Golden Circle.


A view of Hallgrímskirkja from the streets of Reykjavík.


Even though it is a bit touristy, a relaxing dip in the Blue Lagoon is a must.


Good morning from the Golden Circle - the site of Iceland's founding parliament, where the plates of North America and Europe meet, and just the start of your journey.


Walk the rim of the Kerið crater as you leave the Golden Circle and head South.


PART II: THE SOUTH COAST, REYKJAVÍK TO VÍK
As the city fades deep into the rear-view mirror, it will not take long to fall in love with what lies ahead to the South. The Southern coast of Iceland has it all - roaring waterfalls, imposing glaciers, "resting" volcanoes, black sand beaches, and lush fields of green grass and blooming lupines. In this section, we will explore the many showstoppers along Route 1 that include the magnificent waterfalls of Seljalandsfoss and Skogafoss (the "foss" suffix denotes a waterfall), the ancient rock barns of Drangshild, the site of the infamous US Navy plane crash, the cliffside views of Dyrhólaey, and the black sand beaches and sea-stack caves of Reynisfjara.


Taking in the beauty of Seljalandsfoss by ourselves under the Midnight Sun.


Thinking about moving in with the rock elves of Drangshlid...


On November 24, 1973, A US Navy Douglas Super DC-3 plane crashes on Iceland's southern shore. Everyone survived.


Dyrhólaey offers views of icy waters and black sand beaches for miles in every direction.


PART III: THE SOUTH COAST, VÍK TO HÖFN
It may be hard to believe as you pack up from Vík, but the southern coast is just heating up. The coming days will provide some of the most stunning landscapes in the world, and it is shocking how dramatically the environment changes around every corner. In this section, take a peaceful trek through the jaw-dropping beauty of Fjaðrárgljúfur, climb around the glaciers and volcanoes of Skaftafell National Park, get your James Bond on navigating the icy waters of Jökulsárlón, and hunt for your favorite iceberg on Diamond Beach on your way to the lobster haven of Höfn.


The mouth of the Fjaðrárgljúfur canyon at sunrise.


Jökulsárlón putting on a dramatic show under the midnight sky.


Black sand beaches glittering with chunks of ice polished by the sea set the stage for Iceland's Diamond Beach.


The iconic church of Vík is set among the lupine fields that overlook the town.


PART IV: THE EAST COAST, HÖFN TO EGILSSTAÐIR
As you round the bend to head North out of Höfn, you'll quickly notice you aren't on the Southern coast any longer. You're in fjord land now. The glaciated valleys of the Ice Age have given way to jagged mountains, towering sea cliffs and long narrow inlets that make you feel like you are outlining a giant's fingers with your car. In this section, you will wonder at the coastal mountains like Vestrahorn and Eystrahorn, experience the small-town charm of Seyðisfjörður, wander Iceland's largest forest of Hallormsstaðaskógur, hike giant basaltic falls like Hengifoss, and count the many lighthouses dotting the shoreline route.


Just outside of Höfn, mountains like Vestrahorn rise from the black sand of Stokksnes to meet the sea.


The imposing walls of the Eastern fjords.


Seyðisfjörður's all new line up of Fjord Explorers.


The short but vertical hike of a few miles to the Hengifoss falls is more than worth it.


PART V: NORTHERN ICELAND, MÝVATN AND BEYOND
Once again, brace yourself for a sudden shift in scenery. As you leave the Nordic fjords of the East, and make your way along the northern passage of Route 1, you might as well have booked a ticket to J.R.R. Tolkien's Middle Earth. Known for it's geothermal activity, the area is still extremely active volcanically with the latest eruption taking place in 1984 as "fire" continues to mold this alien-like landscape. The geography is so bizarre, that NASA trained here for the first trip to the moon and tales of elvish folklore in this region live on to this day. In this section, we will explore the mysterious volcanic area of Lake Mývatn and the seemingly always present powerful waterfalls of Dettifoss, Selfoss and Goðafoss on the way to Hvítserkur, the famous sea troll of the Northern fjords.


The road to Mývatn. Now entering Middle Earth.


The region is known for its widespread geothermal activity complete with boiling mud pools, hissing fumeroles and active volcanoes.


A former bathing pool, the water temp in the Grjótagjá lava cave rose so significantly after the eruption of Mt. Krafla that it is now too hot to enter (over 50 C).


Legend talks of a sea troll turned to stone, and now Hvítserkur rises over 50ft out of the ocean and basks in the early sunrise.


PART VI: THE WEST COAST, SNÆFELLSNES PENINSULA
Believed to be one of the seven chakras, or energy centers, in the world, the Snæfellsnes Peninsula has a very spiritual, and at times magical, presence. Centered around the Snæfellsjökull glacier volcano (the "jökull" suffix denotes a glacier), drama rules a landscape filled with striking mountains, intricate lava fields, waterfalls, mineral springs and quaint fishing villages. Located just north of Reykjavík, Snæfellsnes also serves as a gateway to the more remote Westfjords of Iceland. In this final section, we will experience the gems of this enchanted peninsula, including the fishing town of Stykkishólmur (made famous in The Secret Life of Walter Mitty), the most photographed mountain in Iceland aka Kirkjufell, the sanctuary cape of Snæfellsjökull, Búðir's Black Church, and some more small town treasures to experience on the way back to Reykjavík.


Kirkfujell is the most photographed mountain in Iceland, and you can see why.


Stykkishólmur is a charming seaside village, where the fish and chips are a must have.


Búðir's beautiful black church carries an interesting history and creates a picturesque setting.


The weather didn't permit an extended trip into the Westfjords, but we enjoyed looking out on them.


PRO TIPS:
At the end of each photo guide, we will provide Pro Tips to optimize your travel and enhance your experience. These brief snippets will focus on:
What You Can Miss: Yes, there's beauty in everything. But the realities of travel are money is limited and time is short so opportunity costs to your decision making are real. If we saw something that was nice but not worth building your trip around, you'll find it here.
Where/What to Eat: If you know me, food is not only a critical part of survival but a part of everyday life to enjoy to the fullest. When I travel, I prefer to experience "what the locals eat" or try foods that are native and/or unique to the area whether it is a shack on the side of the road or a fine dining restaurant. Overall, the food in Iceland is tremendous - the ingredients are fresh and the flavors are full. While we didn't have a bad meal anywhere, here we will provide a different recommendation in reach region to give you the complete "Taste of Iceland" as you go.
What We Missed And Are Sure to Hit Next Time: "There's always next time," you say. We've all been there - you couldn't find something you were looking for or you missed something because you didn't even know it existed. Well, we want to share these mistakes with you so you don't miss what we did. Whether it was because of the time of the year, not having enough time or being completely unaware, here we will share what's on our "not to miss" list for our next visit.


START THE ROAD TRIP WITH PART I: ARRIVING IN REYKJAVÍK OR PICK YOUR REGION HERE.