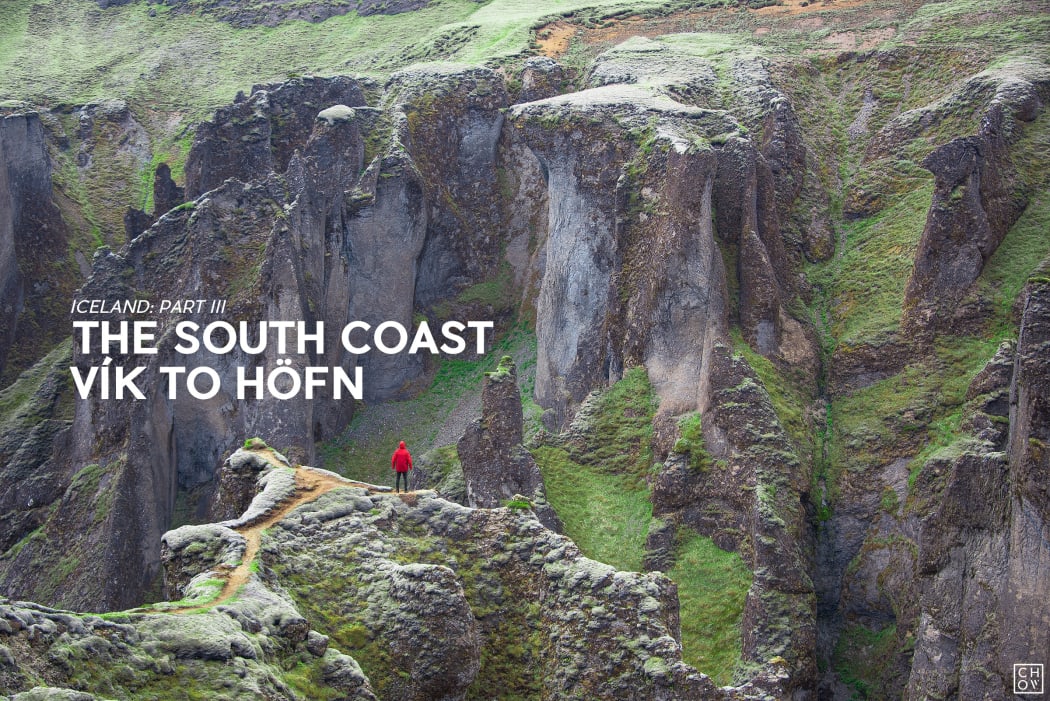 The southern coast isn't done with you yet. Stuff your sleeping bags, break down your tent, and pack your car to keep heading East. Vík is one of the most southern points in Iceland, so even though you are still navigating the southern coast, you will be traveling northeast towards Vatnajökull, Europe's largest glacier that covers almost 10% of Iceland. As you depart the black sands of Vík, you will notice the vast green pastures shift into a tangled mess of mossy lava fields and glacier runouts. Get excited, these are just the precursors of even more dramatic changes in the landscape ahead.


Fjaðrárgljúfur Canyon
Let's start with an amazing feature that lies slightly off the beaten path. About 50 minutes drive from Vík (69km), and only a short distance (3km) off the main road (take a left at Road 206 towards Lakagígar off Route 1), lies the magical Fjaðrárgljúfur Canyon. For whatever reason, you will rarely find this location in tour itineraries or guide books, but this is one of my favorite sights in all of Iceland. The best way for me to describe it is Jurassic Park meets Game of Thrones brought to you by the Ice Age. Only 2km long, the canyon depth steadily increases as you hike towards the center where it is approximately 100m down to the riverbed. There is an easy and convenient footpath to navigate the top rim of the canyon, offering some of the best views you'll ever see (it's worth hiking all the way to the far back side of the canyon). If you're wondering, yes you can even wade through the shallow river through the bottom of the canyon. There are bathroom sheds and fresh water available on site. At all costs, do not miss this majestic setting. I can't wait to visit again and again.


More of Iceland's midnight antics on full display.


Exploring the beauty of Fjaðrárgljúfur Canyon from the ground floor. It's always worth trying to find a different perspective.


Skaftafell/Vatnajökull National Park
If you need any provisions, hit the services in Skaftárhreppur because you have a solid hour plus drive ahead of you to the wilderness hub of Skaftafell. After driving through the vast lava fields and sand plains of Skeiðarársandur (a massive glacial outwash), Skaftafell welcomes you to Iceland's largest national park. Depending on the time of year (and weather), Skaftafell is a huge hub for glacial walks, ice caving, and other touring operations in addition to some short, solo hiking opportunities. Unfortunately, we were too late to partake in the ice caving (always have to save something for next time) but we did hike to the faces of the Skaftafellsjökull and Svinafellsjökull after setting up camp in Svinafell (we got a great tip from a local in the area to avoid the crowded grounds in Skaftafell). It's also a touch closer to Jökulsárlón, the most popular attraction in the area.


Right off of Route 1, sights like the palisades of Lómagnúpur are around every corner.


The dazzling but retreating face of Svinafellsjökull.


Our roommates at camp Svinafell.


Jökulsárlón Glacial Lagoon
Even if you're not a huge James Bond fan, you've probably seen pictures of Iceland's most famous glacial lagoon. Deservedly so, Jökulsárlón provides an amazing spectacle immediately off the main road. Seriously, you can't miss it. The massive lagoon traps icebergs breaking off the parent glacier as they slowly and hypnotically drift out to sea. You can opt in for a boat tour (i.e. get you James Bond on) to get a different view of this unique landscape or jump into the icy waters directly from the shore. Word to the wise, these massive icebergs are moving out to see so it is not advised to swim to close to them or board the icebergs due to serious risk of injury. We witnessed a warden chew out an ignorant tourist who was attempting to do so, and it was not pretty. An expansive shoreline allows for plenty of self-discovery and different vantage points away from the car park, and you can even stop by the smaller but less crowded neighboring glacier lagoon of Fjallsárlón.


Sometimes you really have to get up close to get a different view. Seen here, a close up of a glacial ice block against the black sand of the lagoon. The distinctive blue tint and air bubbles that have been trapped in the ice for years create a striking texture that can rival the biggest of Iceland's landscape views.


Have you ever seen an upside down iceberg? It's pretty insane and you'll know it right away. The texture, or complete lack thereof, and the clarity of the ice is breathtaking.


Hard to believe this was taken at midnight.


Diamond Beach
Often grouped or mentioned with Jökulsárlón, Diamond Beach is close in proximity, related in nature, but a different location (it is not the shore of Jökulsárlón that I have overheard people reference). On the opposite and coastal side of Route 1, you'll find a separate car park allowing you to freely walk the actual coastline that the icebergs of Jökulsárlón empty into. After leaving the security of the lagoon, these icebergs get battered by the ocean, break apart, and eventually wash up on the black sand shores, making it appear as if diamonds of all sizes – from large cars to golf balls – are littering the beach. Voila…Diamond Beach. It's well worth a walk through another one of Iceland's uncommon and extraordinary natural jewels. If the weather is favorable, this is a peaceful break where you can stay until your heart is content.


Iceland's all-natural jewelry store.


From breaking off the face to washing in the ocean tides, you won't find the same iceberg twice.


If you're lucky, these birds will be your only company on your stroll down the beach.


Fláajökull
If time allows, this is another fun escape from the beaten path on your way to Höfn. So much so, that Google Maps doesn't know how to get there. Near the town of Hólmur, look for a yellow sign that reads "Fláajökull" to take a left turn. You'll enter a gravel road for 15-20 minutes before reaching a carpark. From there, you'll take a suspension bridge across the outwash to start your hike to the glacier. Flowing south off the massive Vatnajökull glacier, Fláajökull is one of the more accessible glacial tongues and a destination where (depending on time of year and weather) you can hike directly to the face. Be aware, you are in the middle of nowhere and glaciers do present dangers sometimes unforeseen so keep your wits while you enjoy.


Old rickety suspension bridges are the best.


Even with it's booming popularity, you can beat the crowds and end up completely alone if you aren't afraid to wander off Iceland's beaten path.


Ice cold beauty.


Höfn
This charming and quaint harbor town effectively marks the end of Iceland's southern coast and the beginning of the eastern fjordlands. The second largest town in the southeast, Höfn is relatively chock full of accommodations, offers a popular campground, and has real grocery stores for you to restock your mobile pantry and grab a couple beers for your tent (you've made it almost halfway around the country). Offering one of the few harbors in southern Iceland, the main industry here is fishing – so take advantage! Enjoy some amazing restaurants that offer fresh fish by the bushel and the local specialty: Icelandic lobster. Höfn is warmly known as the "lobster capital" of Iceland and, although expensive, the dish is a must try while you are here. Unlike the Maine lobster, the Icelandic variety are much smaller in size and some of the tastiest I've ever experienced. Our pick is the Pakkhús Restaurant right on the harbor, where the langoustine special is to die for. Savor the meal and rest up, the fjords await.



The fierce and quickly changing weather of Iceland can also create magnificent backdrops.


The bustling port of Höfn bringing in the day's fresh catch.



Another perk of Iceland: free hugs.


Pro Tips:
What We Missed And Are Sure To Hit Next Time: It turns out we had bad intel and we thought the famous "last turf church" of Iceland was on the northern coast. Turns out, we unknowingly camped about 15 minutes away, and blew right by it. Not next time. Mark it on your map – just south of Svinafell and before you reach Fagurhólsmyri. We also want to return in the early spring or late fall to explore the glacial ice caves of Vatnajökull National Park.
What To Eat: Lobster and fish in Höfn. But mostly the lobster – you will not regret it.
What You Can Miss: Some of the short hikes in the Skaftafell area offer great attractions for those who can only make it this far. If you're touring the whole island, skip the short and usually crowded hikes to Svartifoss, better hikes and bigger basalt falls lie ahead.
Best Place to Camp: Camping in Svinafell is a great way to avoid the crowds of Skaftafell. You'll also save some money with a lower nightly rate, and the location serves as a great hub to both the National Park Tour Operations and Jökulsárlón. The campground has a relatively large communal kitchen, free showers and you get to sleep next to the sheep and the horses.


Continue the road trip with Part IV: The East Coast, Höfn to Egilsstaðir