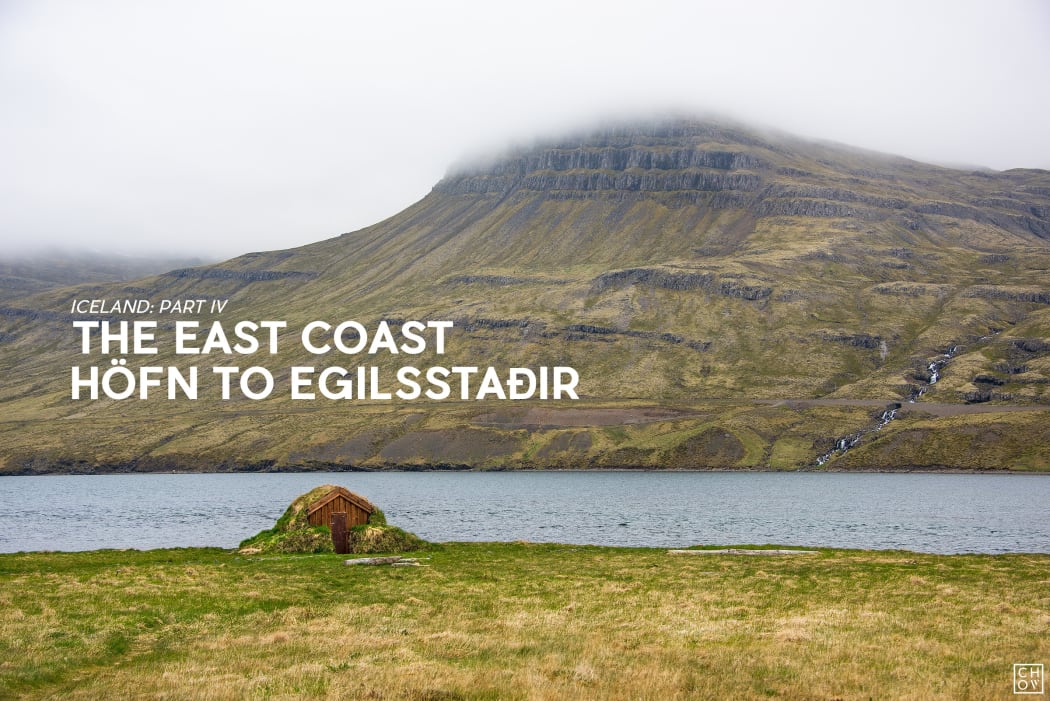 With a belly full of fresh, Icelandic lobster, it's finally time to bid adieu to the southern coast. As you head North from Höfn, the landscape quickly transforms from coastal countryside to jagged mountain fjords. Prepare for picturesque villages, arctic mountain vistas, Iceland's largest forest, caribou sightings, and, yes, more stunning waterfalls. Another huge advantage to exploring the Eastern Region is the noticeably smaller crowds as the waves of hit-it-and-quit-it tourists subside the further you venture from Reykjavík. Let's dive in.


Vestrahorn
Overlooking the Atlantic Ocean, this iconic mountain and the variety of foreground features is a photographer's dream. Expansive tidal pools, black sand beaches and lava dunes speckled with blowing tufts of grass create a truly dramatic setting that is constantly changing and susceptible to large swings in the weather. We came to know this first hand, as we were within arm's reach for almost 3 days and the coastal fog never cleared to give us a clean view of this beauty. Only 15 minutes from Höfn, the nuance to visiting here is the local "toll" you will need to pay to access this view. The upside, the local farming family that owns the land and charges a minimal fee (~$5USD) to reach the viewpoint takes credit cards. No joke. Head out towards the radar station and walk the headland of Stokksnes for the best vantage point of the mountain range, and there are a couple other hiking routes against the base to explore but do not offer the iconic views. This coastal site can be VERY windy so dress appropriately and wear your sunglasses even if it isn't sunny – the sand blowing off the dunes is unforgiving.


The green tufted sand dunes of Stokksnes.


Prepare for wind, and then prepare some more. Don't forget your sunglasses.



We happened across a Viking movie set...our lips are sealed.


Coastal Fjord Drive to Egilsstaðir
Heading North on Route 1 from Vestrahorn you will now embark on a scenic journey through the fingers of Iceland's eastern fjords. You will pass more recognizable mountains (Eystrahorn), extinct volcanoes (Krossanesfjall), and strange rock formations with the multiple opportunities to pull off and wander the craggy Atlantic coast. You'll pass lighthouses in all shapes and sizes, isolated farm houses, and several turnoffs for countless waterfalls that you can't find on any map. It's a quiet and peaceful drive in and out of the towering inlets, and takes longer to navigate than it's appearance on the map do to the back and forth roads that trace the arms of the sea. As you get closer and closer to Reyðarfjörður, pay close attention to your route options and opt for the tunnel route to Egilsstaðir (Route 92) versus the mountain pass through Thingmúli (Route 937/938), which entails a largely unpaved segment that is not recommended for passenger cars. Several locals gave us this same recommendation and it seemed to pay off very well for us. Once you reach Egilsstaðir, you've reached your Eastern Region hub with several nearby points of interest.


The overlook from Djúpavogshreppur of the fjords' dramatic coastline.


You can also walk the coast itself for a completely different view.


Built in the late 1800's, the Old House of Teigarhorn operated as a photography studio through the early 1900's before becoming a national heritage site for the arts.


Hallormsstaður National Forest
They have a saying in Iceland: "If you get lost in the forest, just stand up." Unlike the forests of the Rocky Mountains, the Pacific Northwest or Appalachia, the trees in Iceland are small and more than a couple at once is a rare sight. That is, for everywhere on the island except Hallormsstaður. Comprised largely of birch, the entire forest was protected in the late 1800s and reforestation of the area has continued to thrive, making Hallormsstaður the largest, and possibly the only, forest in the country. The forest is home to a variety of bird life and edible mushrooms, and has a large variety of hiking trails to explore.


It's hard to believe that trees are a rare sight in Iceland.


Yet, this is one of the only places in the country where you will find trees taller than yourself.


Lagarfljót River
As you travel from Egilsstaðir to explore Hallormsstaður, you will notice what appears to be a large lake on your right-hand side. This is actually Lagarfljót, Iceland's third largest river. While offering a scenic backdrop for the only forest in Iceland, it is fun to note that this section of the river is allegedly home to Iceland's own Lochness Monster. Known as the Lagarfljótsormurinn – great worm of Lagarfljót – sightings have been recorded dating back to 1345 with folklore living on to present day. So, if your admiring the river's beauty and a serpentine creature makes an appearance, it may be more than the shadows playing tricks on you…


Hengifoss and Litlanesfoss
I know what you're thinking – another waterfall? Well the answer is yes, one of my favorites in all of Iceland. Unlike the coastal beauties of Seljalandsfoss and Skógafoss that sit right off the road, Hengifoss is tucked into the mountains and requires a 3km trek uphill before you are rewarded with it's unique beauty. Hengifoss is the third tallest waterfall in the country at a drop of 420ft, and is particularly unique for the surrounding basaltic strata and thin layers of red clay that set the stage for the cascade. About halfway up the trail, you will come across another powerful fall, Litlanesfoss, rushing over and through iconic basalt columns. What appears to be a scene straight out of Jurassic Park is a view surely worth the hike and a landscape you will always remember. Side note: There are bathrooms in the parking lot, so hit the head before you hit the trail. As far as efficiency, it's also a strong play to carve out time to hit Hallormsstaður, circle Lagarfljót and hike Hengifoss in one fell swoop for an awesome half day trip.


The layers of banded red clay set between the basalt blocks of Hengifoss create a spellbinding backdrop for the third highest fall in the country that's well worth the hike.


One of my favorite waterfalls in all of Iceland, and that says a lot.


Hengifoss' sister fall, Litlanesfoss, also packs a major punch pushing forcefully through the ancient basalt columns.


Seyðisfjörður
In the opposite side from Egilsstaðir, a full day trip or overnight adventure into the fjords is a must. Our recommendation is to make your way to Seyðisfjörður, an iconic harbor town known for it's art, culture and ferry routes that connect Iceland to the Faroe Islands and Europe. After navigating a narrow mountain pass – at which point we were literally driving through the clouds and a freak snowstorm in June – you will be able to spot the quaint town on your decent to the fjord floor. Multicolored wooden houses, a baby blue church and boats of every shape and size will greet you upon your arrival into small but effusive cultural hub. If you are camping, there is only one campground and it fills up quick so grab a plot as soon as you arrive before heading off for activities. For a unique art walk, grab a coffee in the Skaftfell Bistro before heading to the galleries upstairs (Skaftfell Center for Visual Arts), test the acoustics in the odd egg huts of the Tvisongur Sound Sculpture, and make a call in the old phone booth built into the mountainside (just kidding, it is just an art fixture commemorating the first phone line in Iceland in 1906). Seyðisfjörður is also a great hub for some of the best hiking trails in eastern Iceland, offering remarkable mountain pass treks and aerial fjord views. If there is only one village in the Eastfjords that you visit, you'll be happy it was this one.


Yes, this is a foggy snowstorm in June. Talk about a white-knuckle drive.


The all new line up of Fjord Explorers.


The view from the Tvisongur Sound Sculpture is just a 5 minute hike off the main drag.


Made in 2006, this vintage phone booth replica signifies the 100 year anniversary of the first phone line in Iceland.


Our version of calling home...


PRO TIPS:
What We Missed And Are Sure To Hit Next Time: We were not able to complete the Seven Peaks or Mt. Bjólfur hikes due to weather (there was still deep snow and it was still snowing there in June), but we look forward to trekking around this region next time. Another activity we were short on time for and saving for next time is the salmon fishing in this area.
What To Eat: Sushi in Seyðisfjörður. Enjoy a relaxing meal of fresh fish at Norð Austur right in the heart of the town.
What You Can Miss: Visiting multiple fjord towns – stick to Seyðisfjörður and make the most of it.
Best Place to Camp: Seyðisfjörður – camping in a fjord, need I say more?


Continue the road trip with Part V: The North Coast, Mývatn and Beyond