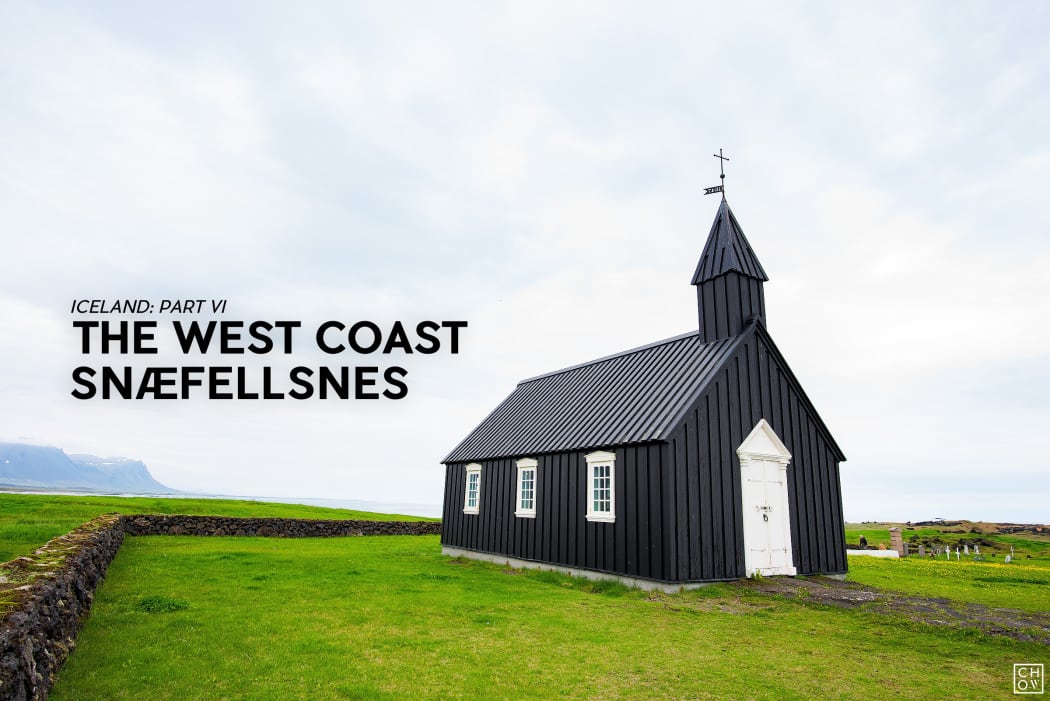 I'm not going to say we saved the best for last, but it might be true. The magic that awaits on the Snæfellsnes Peninsula is truly remarkable, and your visit here is the perfect way to cap off your circumnavigation of the Ring Road. Believed to be one of the seven chakras, or energy centers, in the world, this area has a very spiritual presence. Centered around the Snæfellsjökull glacier volcano, drama rules a landscape filled with striking mountains, intricate lava fields, waterfalls, mineral springs and quaint fishing villages. If this sounds familiar, this Western peninsula is often referred to as a "mini Iceland" as you will find many of the country's characteristics and sights packed into this 90km stretch of land. Let's dive in.
When that 3am open road calls your name.
Borgarnes
After packing up camp at Hvammstangi, you will have a couple of options to make your way to Snæfellsnes. Road 59 offers a shortcut gravel route and there is an F-road (F586) that will connect you to Road 54 (also part gravel) along the northern coast of Hvammsfjörður. Though slightly longer in distance, Route 1 is the only passage that is entirely paved and it also affords you a great pit-stop opportunity in Borgarnes. Chances are you haven't stocked up since Akureyri (315km away), and there aren't any major provisions available once you make it to Snæfellsnes. Hit the Bonus grocery store (there will not be anything more than a gas station grocery store on the peninsula), fuel up and make any other last minute stops (luckily, I found a camera store here to repair a broken leg of my tripod) before heading on your way to the promised land.
Stykisshólmur
Using Borgarnes as your gateway, you'll now have only a short ride remaining into the peninsula. Drive north on Road 54 by the hike-able Eldborg volcano on your left and the basalt cliffs of Gerðuberg on your right, and you'll reach the Road 56 fork. You can either head left (Road 54) and start circling the peninsula clockwise via the southern coast or take a right (Road 56) to cut across to the northern coast. We decided to take the northern route and headed straight for the fishing village of Stykisshólmur. Stykisshólmur made it big as a notable on-set location for the filming of The Secret Life of Walter Mitty, and rightfully so as a charming harbor town with amazing backdrops. A major attraction here is the abundance of sea tours available - fishing, whale watching, Flatey island tours, and the major hub for the ferry route to the more remote Westfjords to the North. We enjoyed the Viking Sushi tour, where we sailed around the rocky islands of Breidafjordur Bay, admired the diverse birdlife (where we FINALLY saw the elusive Icelandic puffins), and enjoyed sushi pulled straight from the sea. When I mean straight from the sea, I mean a shellfish plough was lowered into the ocean and up came fresh scallops, sea urchins, crabs, starfish and more for viewing and tasting. It doesn't get fresher than that. We also enjoyed the best fish and chips out of a food truck in the harbor and relaxed in an awesome little café, Narfeyrarstofa, in town before retiring to our peaceful campground. You can also hike the harbor lighthouse for awesome views of the whole town and seaside views towards the fjords. Talk about a small town that delivers.
In the land of the midnight sun, you really can dance like no one is watching.
Puffins do exist!!!
Using a traditional drag net, the Viking Sushi crew brings in the fresh haul.
Then the shucking begins.
And then you enjoy the freshest sushi in town.
The view of Stykisshólmur from the sea.
Kirkjufell
A headliner of many visitors, we set out for Kirkjufell with major anticipation. As the most photographed mountain in all of Iceland, I remember seeing a picture of this place years ago and saying audibly, "I have to go there." It was that kind of spiritual calling that inspires and fuels adventure travel and everything it takes to pull of a major expedition like this. No pressure for this attraction live up to expectations at all, right? Well it did. Just outside of Grundarfjörður (which is also a great hub in general for camping and exploring around Snæfellsnes), this beautiful natural landmark rises out of the ocean. Translating to "Church Mountain" (I conveniently used to refer to it as the Magic Hat), this is definitely my kind of church. There are hiking routes reach the 1,519' summit and on the inland side of the higway, there is a short walking trail to enjoy the view from the falls of Kikjufellsfoss (remember our suffix lesson on waterfalls?). Simple yet stunning, Kirkjufell is a beauty that should convince you to buy your plane ticket to Iceland if the previous five sections have not.
The midnight sun gives a whole new meaning to the golden hour, allowing you to shoot from dusk till dawn.
Sunset on the left, sunrise on the right. Absolute magic on display.
Snæfellsjökull
Everyone has heard of Jules Verne's 1864 science fiction novel the Journey to the Center of the Earth. The protagonist, German professor Otto Lidenbrock, navigates his way through volcanic tubes, prehistoric animals, and natural phenomena on an adventure through the heart of the Planet. His entry point? The 700,000 year old Snæfellsjökull, a stratovolcano covered by a glacier. Today, the location still carries many mystical qualities and is revered as one of the few energy centers in the world for prayer, healing and spiritual discovery. The first national National Park in Iceland, Snæfellsjökull is built around this landmark and offers a ton of outdoor activities including hiking, glacial tours, lava tube caving, horseback riding and general sightseeing. When you're here, free your mind and feel the earth.
The blowing glacial summit of Snæfellsjökull.
This isn't where I parked my car.
Southern Peninsula
As you round Route 574 through Snæfellsjökull National Park, there are a few notable sites on the south coast of the peninsula. You can hike around the sea cliffs of Londrangar, visit the ancient fishing villages of Hellnar and Arnarstapi, descend into the lava tubes at the Vatnshellir Caveand, and admire the mysteriously fantastic black church of Buðir. Another off the radar stop is the Rauðafeldsgjá gorge (just a few minutes away from Arnastapi). Wherever you go, the landscape will dazzle and there are plenty of unlisted attractions to explore. We came across an old abandoned structure that made for a quiet and enjoyable walk along the coast with nobody else in site.
The small fishing village of Arnarstapi.
Abandoned in Snæfellsnes - there are worse places to be.
The hues of sunrise.
Back to Reykjavík
Whether you spend a day or a week exploring Snæfellsnes - and you could spend even longer here especially if you venture into the Western Fjords - it's a relatively short and easy two hour drive back to Reykjavík. And yes, there are more sights to see along the way. Passing back through Borgarnes, you can make a quick detour to the small port town of Akranes where the number one attraction is visiting the lighthouse. From Akranes, you have a decision to make: either take the country's largest underground tunnel under Hvalfjörður or take the extra hour or so to navigate the rim of the fjord, which also allows hiking access to Iceland's highest waterfall, Glymur.
Don't forget to look up.
PRO TIPS:
What We Missed And Are Sure To Hit Next Time: It feels like there are too many too count but the standouts include: ferrying into and exploring the Westfjords (need to come later in the season), glacier trekking on Snæfellsjökull, and hiking to Glymur are missed items that we definitely have on our list for next time.
What To Eat: In order, fish and chips in the harbor of Stykkishólmur, sushi straight from the Breidafjordur Bay, and enjoying unlimited coffee refills over a tasty pizza and strong wifi at the Laki Hafnarkaffi café in Grundarfjörður.
What You Can Miss: If you're on a tight schedule and do not have any particular affinities for lighthouses, Akranes is a skippable attraction.
Best Place to Camp: Tie between Grundarfjörður - a great base for Kirkjufell and Snæfellsjökull - and Stykisshólmur - a charming seaside harbor town.
Plan your road trip now with my recommended Iceland Itineraries.